j.g. lewis
original content and images ©j.g. lewis
a daily breath...
A thought du jour, my daily breath includes collected and conceived observations, questions of life, fortune cookie philosophies, reminders, messages of peace and simplicity, unsolicited advice, inspirations, quotes and words that got me thinking. They may get you thinking too . . .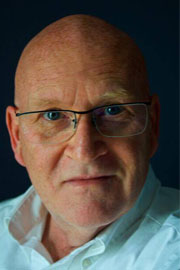 I'm like a pencil;
sometimes sharp,
most days
well-rounded,
other times
dull or
occasionally
broken.
Still I write.
j.g. lewis
is a writer/photographer in Toronto.

follow on social media
keep in touch
Enter your email to receive notification of significant posts. Don't worry, I won't clog up your inbox or sell your data
logical and chronological
archives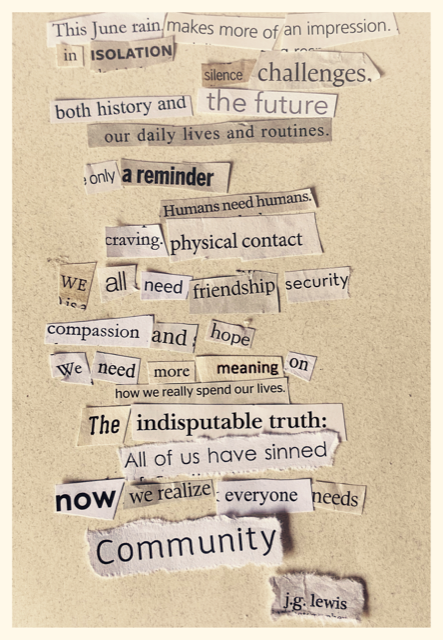 Awoken by thoughts
            or a voice shouting on the street below
        or
               nothing
     3 a.m. or later
              window open    comfortably cool
this June rain makes more of an impression
   in isolation
                               silence challenges
both history and the future
   our daily lives and routines
   only a reminder
                   humans need humans
         Craving physical contact
we all need   friendship    security
compassion  and  hope
 We need more meaning on
        how we really spend our lives
The indisputable truth:
        All of us have sinned
Now we realize everyone needs
         Community
crisis or chaos
    we are denied
       guilt will find a place to rest
                  how do you sleep at night?
© 2020 j.g. lewis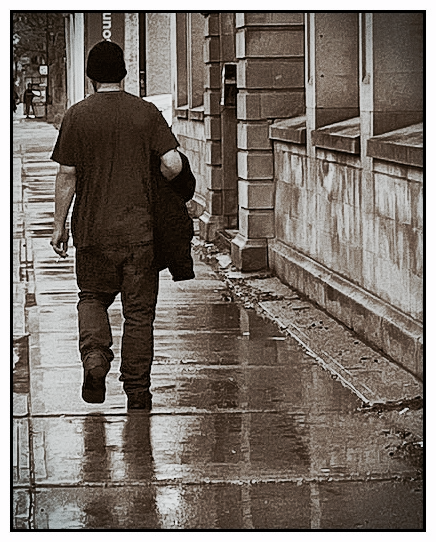 Our muscle memory
often will not let go
of things that do not
serve us as intended
or as they once did.
The weight of our
thoughts can drag
us down, hold us
back, or completely
stop us from doing
what we need to do.
It hinders and hurts.
We don't know why
because we can't tell
the difference.
06/02/2020                                      j.g.l.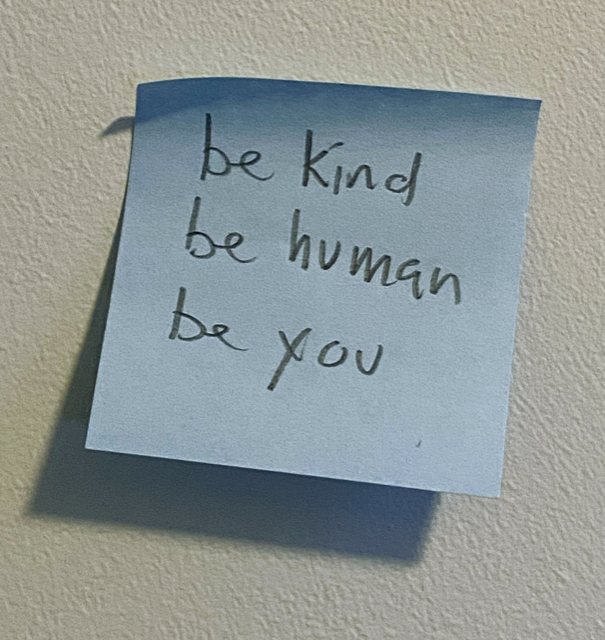 'What would it feel like to set an intention that wasn't about accomplishing something?'
  That's a mouthful, it's more than a question, but it was a thought posted last week by Susana Harwood Rubin that has kept me thinking about intention, and then, I suppose, goals. The yoga teacher and author wrote the post after reviewing her post-it note reminders of things she needed to accomplish in a day.
  We are all, often, slave to the lists on the fridge or reminders programmed into our mobile devices. More often than not, our intentions are goal based; we need to get something done, so we set the goal or make plans to do such.
  Perhaps, then, it is not an intention. Perhaps it is more.
  Harwood Rubin, wrote that it was "creating aspirational lists of what an ideal me COULD POSSIBLY do."
  So Instead of creating lists or to-do reminders and disguising them as intentions, Harwood proposed setting intentions based on kindness or gentleness instead of results.
  The intention may not sound as concrete, or as definite, as those that are result-oriented, but they sound true and authentic. A kindness-based intention sounds like something worthy of thinking on.
  I've been thinking about it for almost a week, and will continue the thought process for the next few weeks. May was a tough month where my intentions got mixed up and my goals came down to deadlines.
  I could use a month of gentleness.
  Thus my intention for the month (at least) is rather simple:
be kind
be human
be you
  I hope it works out. It is my intention.
  I wish the same for you.
  It's finally June.
  deep peace
06/01/2020                                        j.g.l.