j.g. lewis
original content and images ©j.g. lewis
a daily breath...
A thought du jour, my daily breath includes collected and conceived observations, questions of life, fortune cookie philosophies, reminders, messages of peace and simplicity, unsolicited advice, inspirations, quotes and words that got me thinking. They may get you thinking too . . .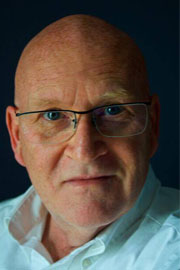 I'm like a pencil;
sometimes sharp,
most days
well-rounded,
other times
dull or
occasionally
broken.
Still I write.
j.g. lewis
is a writer/photographer in Toronto.

follow on social media
keep in touch
Enter your email to receive notification of significant posts. Don't worry, I won't clog up your inbox or sell your data
logical and chronological
archives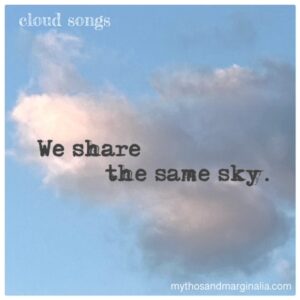 Direction uncertain,
                   destination unknown
   or definite
               We share
                                                 the same sky.
                         Look up,
    know where you are,
       if only for a moment.
                           If only for your self.
11/24/2022                                                                                                                                                      j.g.l.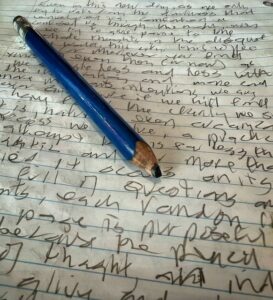 Even in this new day, as we only try to wake from the darkness that enveloped us, comforted or confused us, through the night; even as we give pause to immediate thoughts in the disquiet of the world, this city, this coffee shop (or wherever you find yourself). Even then (or now) as we struggle less and less with the inspiration and more and more with our intentions, we are never quite sure if we will find or have found the clarity we seek. It is naturally, even organically, a process we value, a practice we attempt, that is far less than pedantic and far more than studied. It occurs on its own, full of questions and comments, each random line on the page is purposeful if only because the pencil leaves a trail of thought and indications you are alive and wondering, at all times, as we should be… shouldn't we? Let not the questions cast doubt on what you know, but instead observe where the answers take you. Surely you are alive enough to count yourself in? This is the pattern of life: to question, to observe, to make use of your time — in whatever manner — to express yourself beyond the boundaries of what you have been told. Is there a better reason to write every damn day?
© 2022 j.g. lewis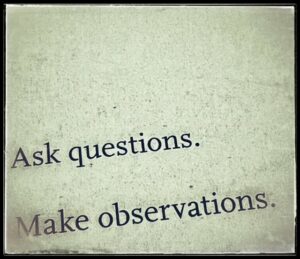 Take what is there, observe the
confluence of ideas, the merge of
unexpected honesty with the
reality you gaze at.
Unencumbered thought is simply
too easy to ignore, yet we put off
decisions we need to make all
too frequently.
We don't question our behaviour.
We wait for conclusions to be
made for us, thinking it easier to
simply go with the flow. In doing
so, we avoid what is right in front
of us. We look no further.
Observe what is there; do with it
what you may. Discover the true
consequences of your own actions.
11/22/2022                                                                                             j.g.l.